Linuxworld + Mom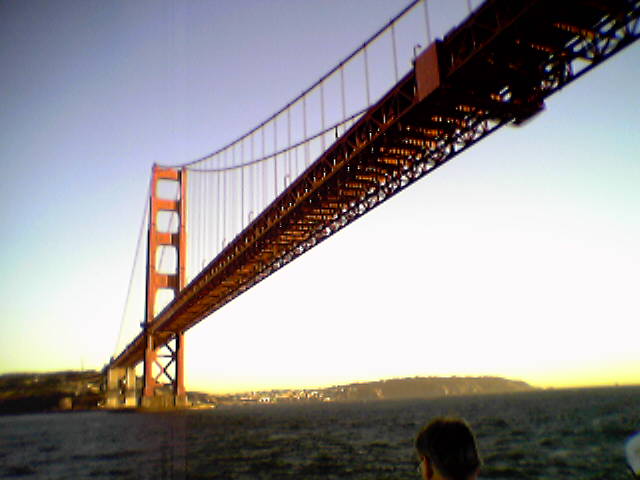 Linuxworld was pretty damn cool. Dan, Will and I met at Dan's house about 5:15am, unpacked and repacked a bunch of kiteboarding gear (for Dan and Will), drove to the airport, flew to Oakland, got a renta-car (4 door Grand Am), mashed the gear in it, checked into the hotel, dropped off bags and hit up the vendors at the Moscone convention center around 9:30. We got lots of schwag and learned a few things. It's amazing how they market to us geeks...using models to promote products. Seems to work, I'm not sure what Pogo Linux sells, but I must buy lots of it and install it everywhere. Novell, Redhat and Sun had the biggest displays, and Mozilla had the coolest shirts. Too bad they cost money. It kind of dissapoints me that LinuxWorld has gone all corporate, but it really does show how much the Linux scene has changed in the last few years. Now it has marketing. ;)
After the convention, we cut out early and went to Chrissy Field. Dan and Will had brought a bunch of kiteboarding equipment with the hopes of kiting in the extreme wind that is generated when a light gale is squeezed between the hills on either side of the Golden Gate. But they both wimped out at a measly 28mph gale. I give them crap but I wouldn't have touched that water with anything less than a Navy frigate. It was overcast, cold, so windy that the sand was blasting my eyes out and the tide was moving out really fast. We booked to a new spot at 3rd Ave, and while I slept, they drove to where they were supposed to go, which turned out to actually be 3rd Street. Dan got out in the water while Will and I watched. Took some cool pics. It was pretty neat to watch those kites flying around. We wrapped up the trip with a cruise around the bay on a small cruise ship. A lot like a Hornblower boat, just not that company. We almost didn't make it...boarding started at 5pm and it was supposed to leave at 6pm. We left the kiting scene at with 15 minutes till 6 and the pedal to the floor. 30 minutes later we found parking a block or two away from the dock and sprinted the whole distance, Will and I both tried to run but ended up hobbling (bad knees). Dan called ahead to another co-worker, Mike, and had him help us delay the boat. When we got there, security was waving us in, waiting to close the gate! I still can't believe we made it. We instantly grabbed drinks to celebrate making it in the nick of time. It turned our to be one of the most picturesque things I've ever done...and all 3 of us forgot out camera's. Dammit! But the pic above was one of the pics I took with my cell phone. And these too:
That night we went out drinking down the street from our hotel. Beer and geeky stuff were the main course, martini's for dessert. Probably the most I've had to drink in a long time. And that damn band never did play the song we requested. Bastards.
Getting up to a highly groggy morning, we left for the airport Thursday around 8am and got back into SD about 2pm that day. I was so dead at work. And it reminds me whey I hate flying. I still can't believe that Southwest was that crowded during the week.
Thursday night, I ventured back down to the Southwest terminal to pick up my mom who flew in from TN. She came out for an end-of-summer long weekend. I'm glad that she loves my new house. Friday, I had to work but she and Tracy went shopping. David drove down late that night. The next morning, Mom, David and I went down to Coronado beach. One of the top 10 beaches in the US. It was so beautiful, with the huge, white, flat sandy beaches and the gold sand glittering in the waves. It's just south of the North Island Naval Base/Airport, so we got to see a few jets landing as well, which was deafening, but really cool. We had some lunch and came home, exhausted. That night, we hung out at home and watched a movie. Sunday, we went and did a little shopping, Mom bought me a housewarming gift: Black and Decker Leaf Hog. It's pretty sweet. I can't wait to use it. David and I chopped down the rest of that damn tree in the back yard as well. No more trees around the pool, yay.
David left about 5pm on Sunday and I dropped Mom off before work at the Airport. I leave Thursday morning for Monterey and the historic races. Damn, this has been a busy summer.