Dave Chappelle
So I saw Dave Chappelle tonight. Dave was classic, hillarious. It was his new standup routine. Almost all the jokes were new, only a few old ones. No Rick James impressions, but lots of wannabe's in the crowd. It was kinda funny listening to 'hWHAT?' and 'Yeaaaaauuuuhh!' (Little John) coming from the seats. Greer Barnes was on before him, he is the first person to ever make me break a sweat laughing. It was SO funny, the stuff about the 'virginia' being all serious. "Flaps and shutters and a doorbell." ROFL!
No cameras allowed, so I didn't get a pic with Dave. And it was too dark at the RIMAC for my poor camera phone to take a decent shot: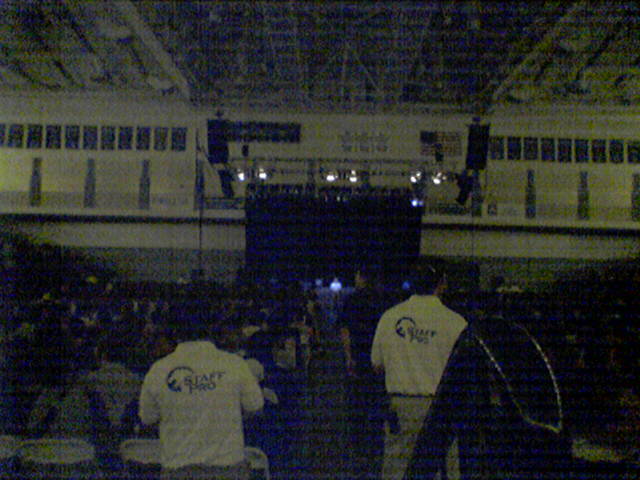 The lines at the RIMAC were horrendously long. Tracy and I were running late but somehow beat every body there, we were in the first 500 or so, with a few thousand behind us. Geoff and Karen joined us in line a little later with a few grunts from the people behind us. Whatever, they had a crew of 20 join them! Keith, Houman and Herman showed up late and were near the back of the line, but made it in and got decent seats anyway. Zac and his friends missed the first guy, too bad, he was great. Jason, UCSD student and an intern in my group at work, scored us these tickets back in Feb for $20 a pop. I saw them on ebay for $150 for 2 'front row' seats (it was open seating). And they were going for $200 a seat at the show. Almost saw a fight break out but somebody slipped up and used good judgement. A few people were carted out for using cameras and one dude was escorted away with a video camera.
Tracy and I went out for drinks with Geoff and Karen afterwards. It was a good night.
Wow, the Astronomy Picture of the Day is rad today. And yesterday too.