BarCamp 0b10
There's been a flurry of activity in Nashville about Bar Camp over the last 48 hours...and 5 years. I won't summarize because it removes the passion. If you care, go read them (referenced at the bottom).
So what do we (the Nashville community) do about it. Well, we act. Earlier today Tim Moses posted this:
I think there is room for an alternate BarCamp that answers your concerns without conflicting with the current BarCamp. BCN may not be true BarCamp format, but it is successful. It may not be tech-heavy, but that seems to be improving in large part by the BCN organizers. Making dramatic changes to BCN would most likely hurt it more than help.

The problem isn't with the existence of BCN or how it operates, but the nonexistence of a tech-focused BarCamp. Many BCN supporters have repeatedly suggested an alternate, but no one has stepped up to do it.

On that note, Nathan Hubbard (ex-Telalinker with true BarCamp experience), and I are organizing BarCamp 0b10, a tech-focused, 2 day, traditional BarCamp to complement BCN. The current plan is to space it far enough from BCN (maybe Spring) to not force a choice between the two. If you like both, go to both, present at both. If not, pick your BarCamp of choice.
We're shooting for a date sometime this spring and looking to things like this and people like this for inspiration and guidance. Initial thoughts are: traditional BarCamp, 2 days (camping!), complimentary to BCN, 'tech focused' but not tech only, simpler and less complex, less organized, etc. Tim and I will announce more via this blog and our twitter accounts (@timmoses, @n8foo) in the next few months. Keep your eyes peeled. Update: we have a new twitter account: @BarCamp0b10 and hashtag #0b10.
Right now, the Nashville community needs to focus on making BarCamp Nashville 2011 awesome. Go sign up. Go to make a difference. Go to see what it's like if you've never been. Don't wait on our event, go act.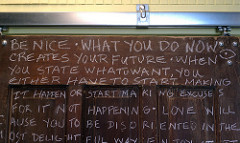 References: