Anniversary 2004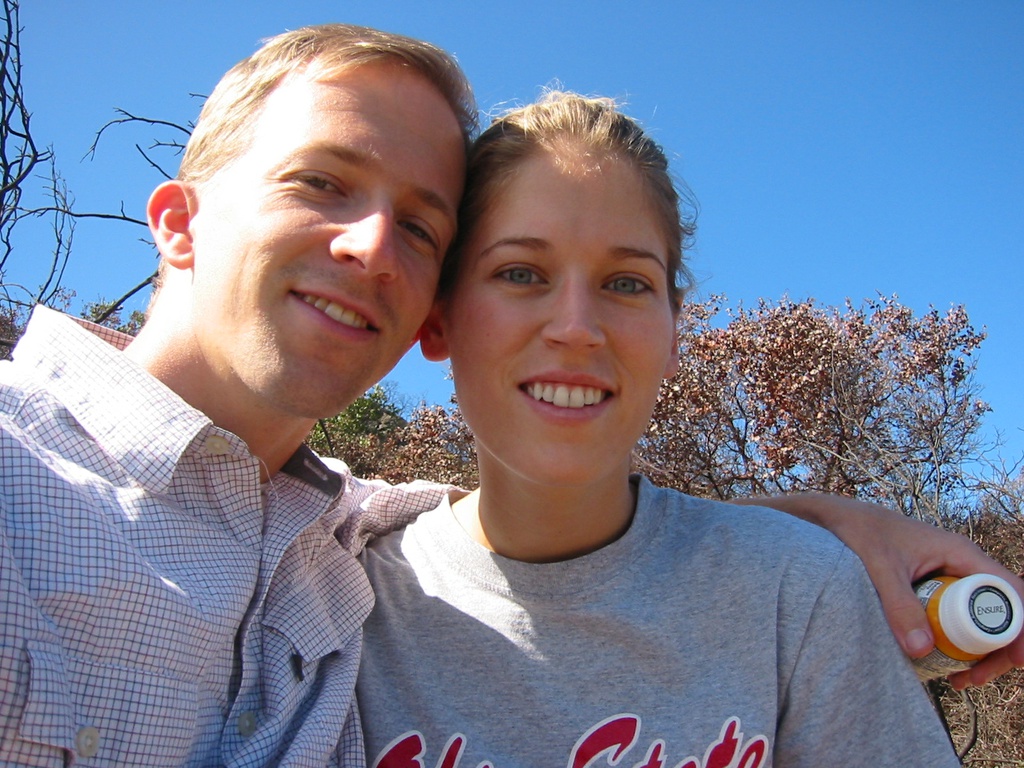 This weekend, Tracy and I celebrated 2 years of knowing each other. Last year, we rented a cabin up at Big Bear, it was a good time...but rather expensive. This year, due to budget and time constraints, we decided to go camping in a near-by state park. We had originally looked at William Heise, but the ranger told us that it had been mostly burned down by the 2003 SD fire and to check out Dos Picos instead, "it's beautiful and really green". So, we re-set our sight for Dos Picos and made reservations ($12/night, 2 nights + fees = $27).
It was a good time, but a little disappointing. The park was a lot smaller than we had imagined it. Our camping area was right against the park edge, which was someone's back yard. It didn't look like what we had thought. The rangers said it was 'very green', which was attractive to two people from back east that are tired of looking at sand and boulders. The pictures from the brochure showed streams and a lake sized pond, which turned out to be a 50 foot wide puddle with some skanky looking ducks in it. And a bunch of frogs. And millions of bugs...that wouldn't leave us alone. But it was low on water because they were pumping out of it to feed dozens of sprinklers on a few large mowed lawns that they had at the park. Including a large jungle gym for kids. Which just seems backwards to me for a place of 'nature'. And we didn't expect it to be loud...the people...they let the kids go nuts! Yelling, screaming, early in the morning, just loud as hell, and rooting through our stuff too! Brats! And people were blasting music. I mean, really, who does that in a nature preserve. Well, these people do, I suppose.
But, we did get to spend some time alone in a large grassy field under a pretty oak tree, that was really nice. And we went on a morning hike, which was also pretty fun. And we spent Friday night looking at the stars, which were incredible from that location. But we decided to come home a day early anyhow since it had become uncertain if Tracy would have to work Sunday afternoon.
So we packed up and headed out back to civilization. And spent the rest of the weekend relaxing at home. It was quite nice.
Sunday, we went out for a nice dinner downtown, to the "Dakota Grill". Neither Tracy or I had been there and the prices were reasonable. The food was good and we each had a nice glass of wine. I could have done without the waiter staring at Tracy, but other than that it was a good place. I'd go back.